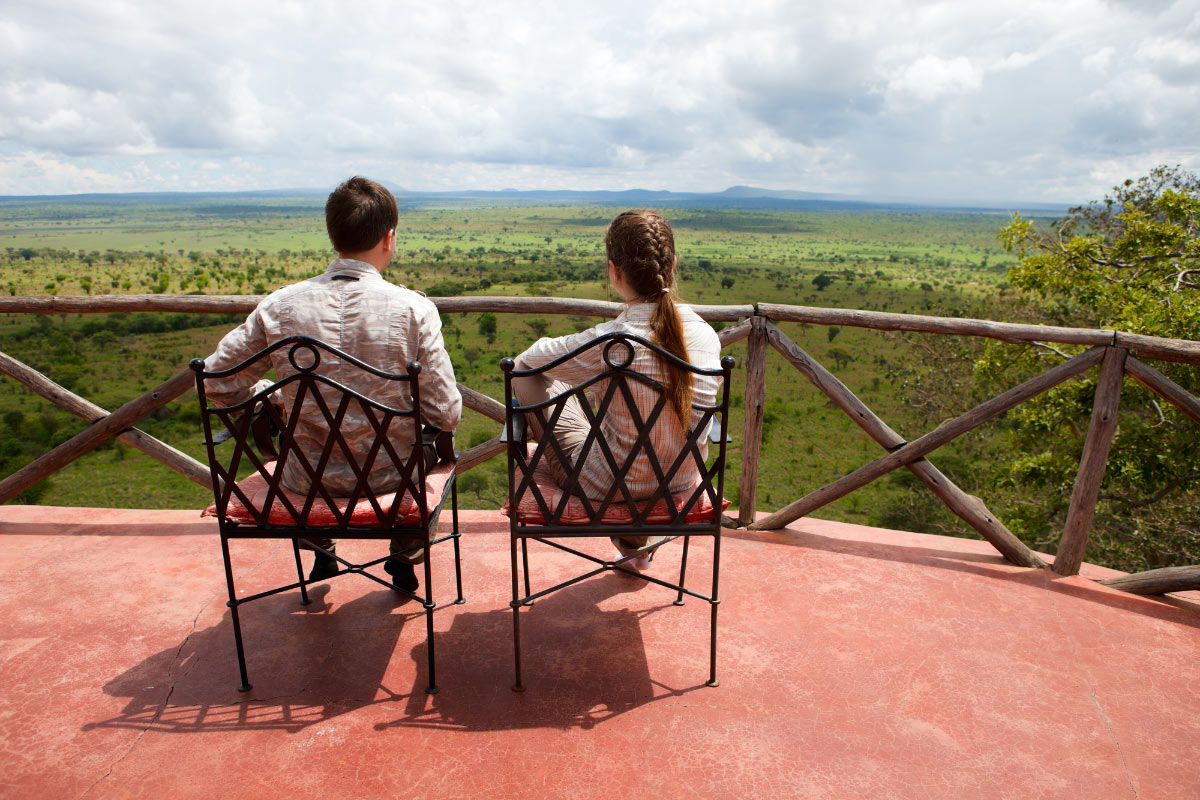 Tarangire, Tanzania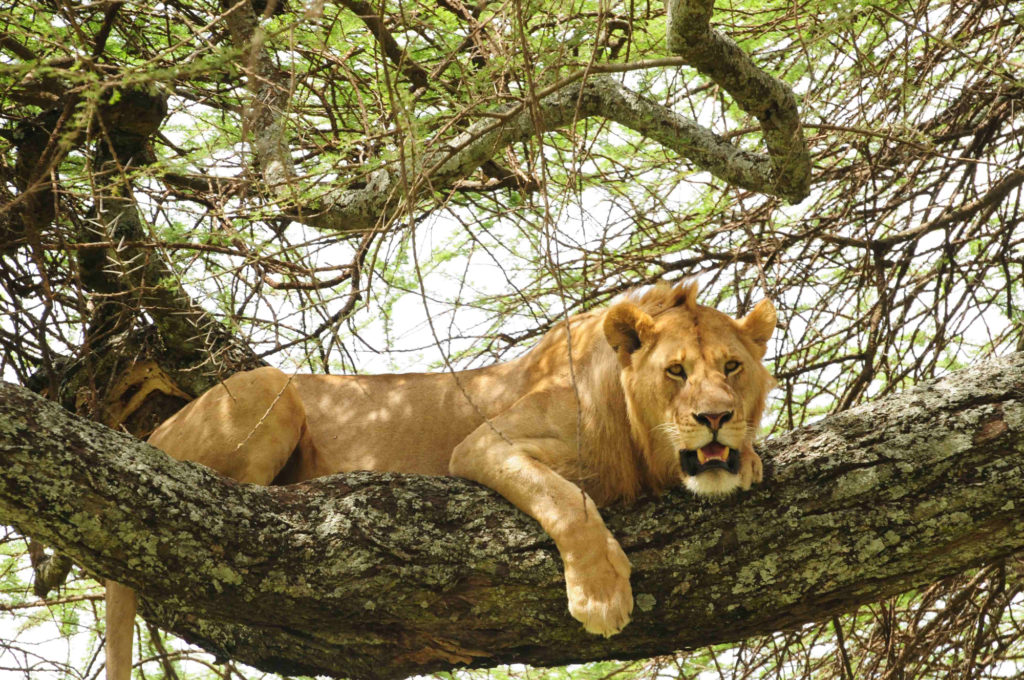 -->
Lake Manyara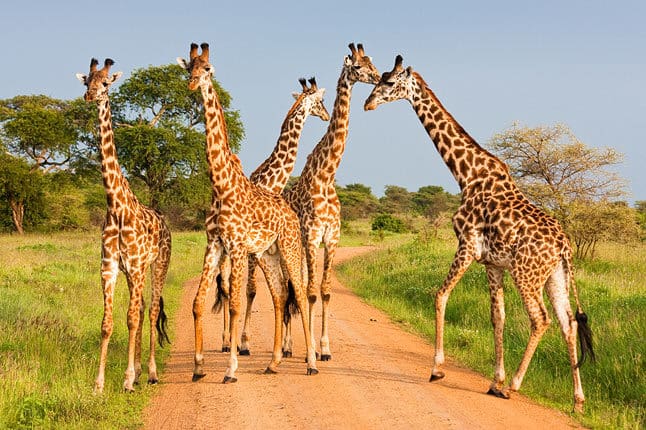 -->
Tarangire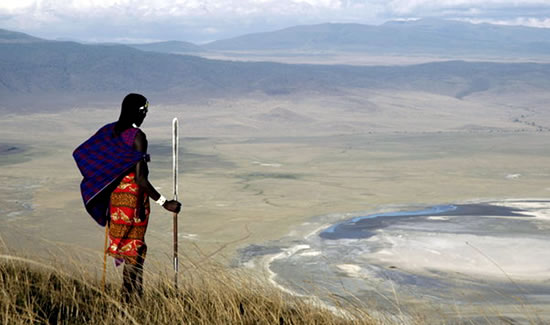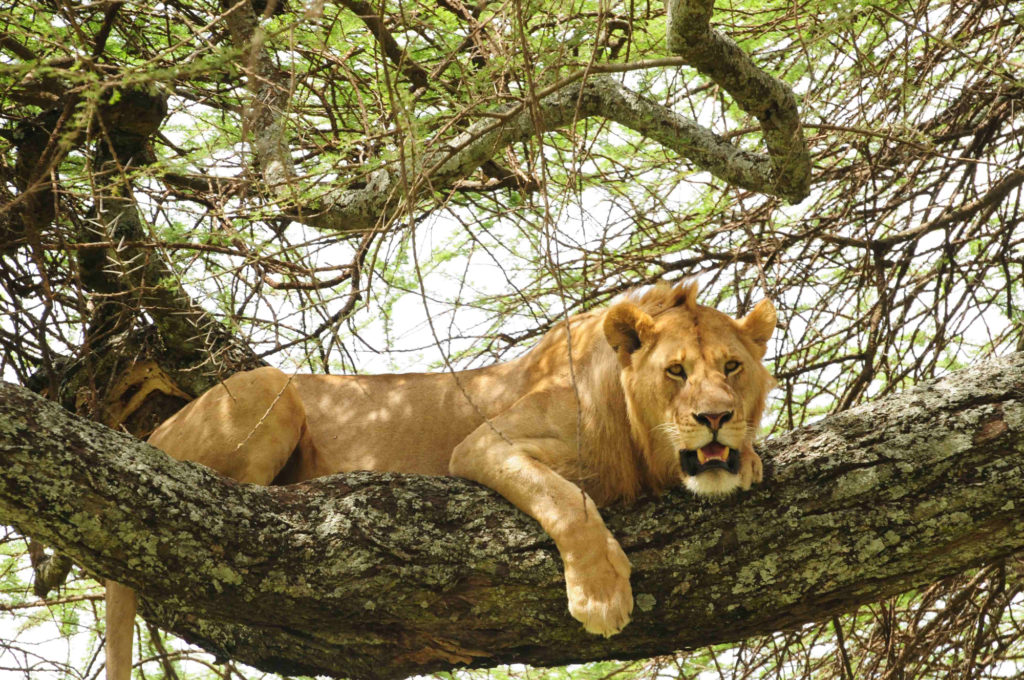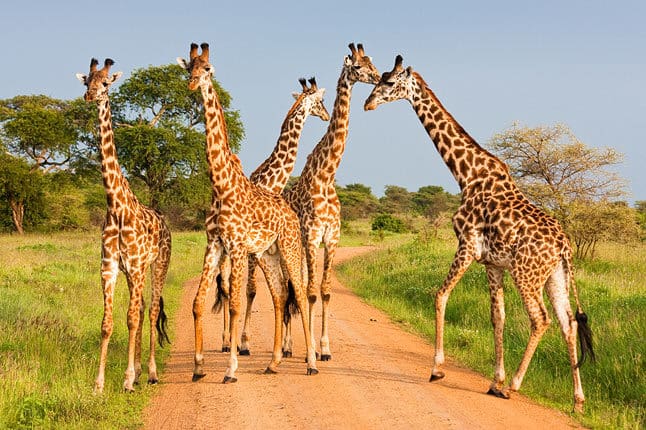 Itinerary
Tanzania adventure safaris itinerary below gives a quick taste of Tanzania northern circuit and most popular national parks. You will experience a short and unique Tanzania budget safaris and Zanzibar beach holidays of a lifetime experience, this will be a busy memorable two weeks adventure experience.
Day 1: Arusha
As your safari starts and ends in Arusha, it is essential to stay there the night before your Tanzania Safari departs. The busy commercial town lacks charm, but for the traveler there are a number of good souvenir shops and bustling markets where you can pick up some good-value Maasai curious. A visit to Arusha National Park offers good views of Mount Meru and is one of the few parks that permit tanzania walking safaris. There are plenty of animals here to see. Accommodation here is either in lodge/camp.
Day 2: Tarangire National Park
From Arusha, tanzania safaris head southwest through the coffee plantations and on to the plains, where you may see the Maasai grazing their cattle, and on to the Tarangire Nationa Park, which is less than 2 hours drive from Arusha. The floodplains, grasslands, and acacia woodlands are home to a full range of animals, and the tall sausage and baobab trees are a favorite haunt of leopards and tree-climbing lions. The lodges here are a little less crowded than in the other parks. Accommodation here is either in lodge/camp.
Day 3: Ngorongoro Crater Conservation Area
After breakfast tanzania adventure tours continue east where the road goes up the scenic escarpment overlooking Lake Manyara National Park. There are viewing spots to pull over and admire the lake, tinged with pink thanks to the thousands of flamingoes. From here the road steadily climbs the foothills of the Ngorongoro Conservation Area, and the vegetation becomes increasingly green and lush until you are in dense forest on the Ngorongoro Crater where plentiful game watching is virtually guaranteed. Accommodation here is either at the Ngorongoro Wildlife Lodge/camping at the crater rim.
Days 4 and 5: Serengeti National Park
from the crater rim, the road spectacularly continues down the steep hill of the outer crater, where again Maasai can be seen stalking the open plains, before flattening out at the gate of the Serengeti National Park. Spend two nights here where game drives across the sun-baked plains, dotted with piles of giant boulders, can be richly rewarding, particularly during the migration time. Accommodation here can be either at the Serengeti Seronera Wildlife Lodge/camping.
Day 6: Lake Manyara National Park
Back on the track after breakfast on the same road across the top of the Ngorongoro Crater and spend a final night in Lake Manyara National Park. Lying at the foot of the scenic Manyara Escarpment and surrounding the lake of the same name, this park features acacia woodland, some ancient gnarled teak and mahogany trees and grass and marshland. Its home to a number of large animals and although rarely seen, is famous for its tree climbing lions. Easily seen around the lake and on the cliffs is the diversity of birdlife.
Day 7: Arusha
On the final day after breakfast and morning game drives, return to Arusha with sweet safari memories.
After days on a Tanzania adventure safaris, it is ideal way to round up your Tanzania budget safaris with a few days beach holiday to zanzibar. We shall book your return flight from Arusha to Zanzibar with two nights at the zanzibar stone town city combined with four nights zanzibar beach holiday experience at a beach resort.
Days 8 and 9: Stone Town and Zanzibar
Stone Town warrants a couple of days to soak up the atmosphere in the fascinating labyrinth of narrow streets and alleyways. The elaborate 19th-century houses have impressive carved-wood doors, elegantly carved balconies, and loggias and verandas that cling precipitously overhed; many have been restored as charming hotels decorated with antiques and persian rugs. Zanzibar is also known as the Spice Isle, thanks to the inland spice plantations with cardamon,ginger,cloves, and nutmeg, and you can sample these on an informative half-day tour. Also when in Stone one of the offshore islands, and perhaps take a ride on a dhow.
Days 10-13: North Coast Beaches
There are more than 25 idylic beaches to choose from Zanzibar, all backed by palms and mangroves, where views of a white sailed dhow slipping silently across a sinking sun are a permanent feature. The young at heart can head to the north coast for a few nights in a rustic bungalow at Nungwi or Kendwa (well known as a party destination and for its idylic beach), while on the East Coasts are large family resorts spread attractively along the beaches. Watersports are on offer around the island. In the southeast, the Jozani Forest has excellent nature trails and is home to the rare red colobus monkey, or you can swim with dolphins off the southwest of the island.
Day 14: In Transit
Depending on times of onward travel, you may need to spend another night in Stone Town before catching a flight or ferry to Dar es Salaam to connect with international flights or continue on other parts of Tanzania Adventure Holiday.
Included
Hotel / Hostel Pickup

All meals noted in the itinerary

Transportation in standard game viewing safari vehicle complete with pop-up roof for easy viewing and photography.

Your driver/guide speaks English and has in-depth knowledge of the flora, fauna, landscape, and Kenyan culture.

A minivan outfitted with two-way, long range high frequency radio communications equipment.

Bottled mineral water during game drives

Park entrance fees and game drives as noted in the itinerary.

All government taxes, levies, and fees

Pick up and drop off transfers
Not included
Domestic and international airfares and departures taxes

Personal communications charges for telephone calls, faxes, email, etc.

Tips and gratuities for your driver/guide.

Alcoholic and non-alcoholic beverages.

Laundry services

Between meal snacks, parks, attractions, and events not included in your itinerary