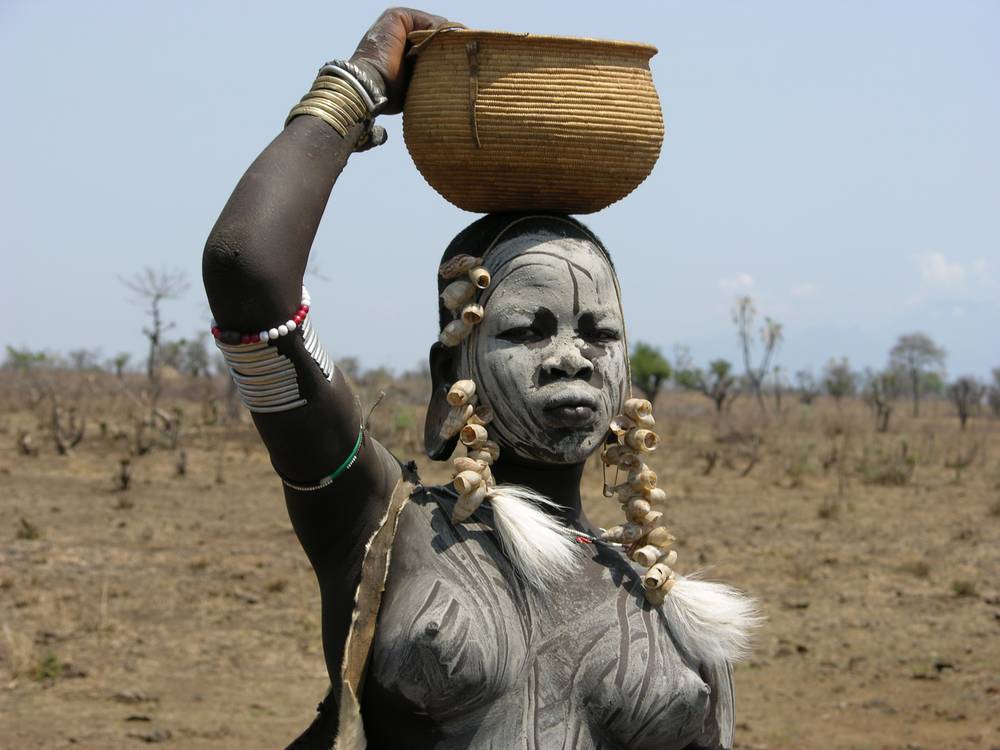 Omo Valley, Ethiopia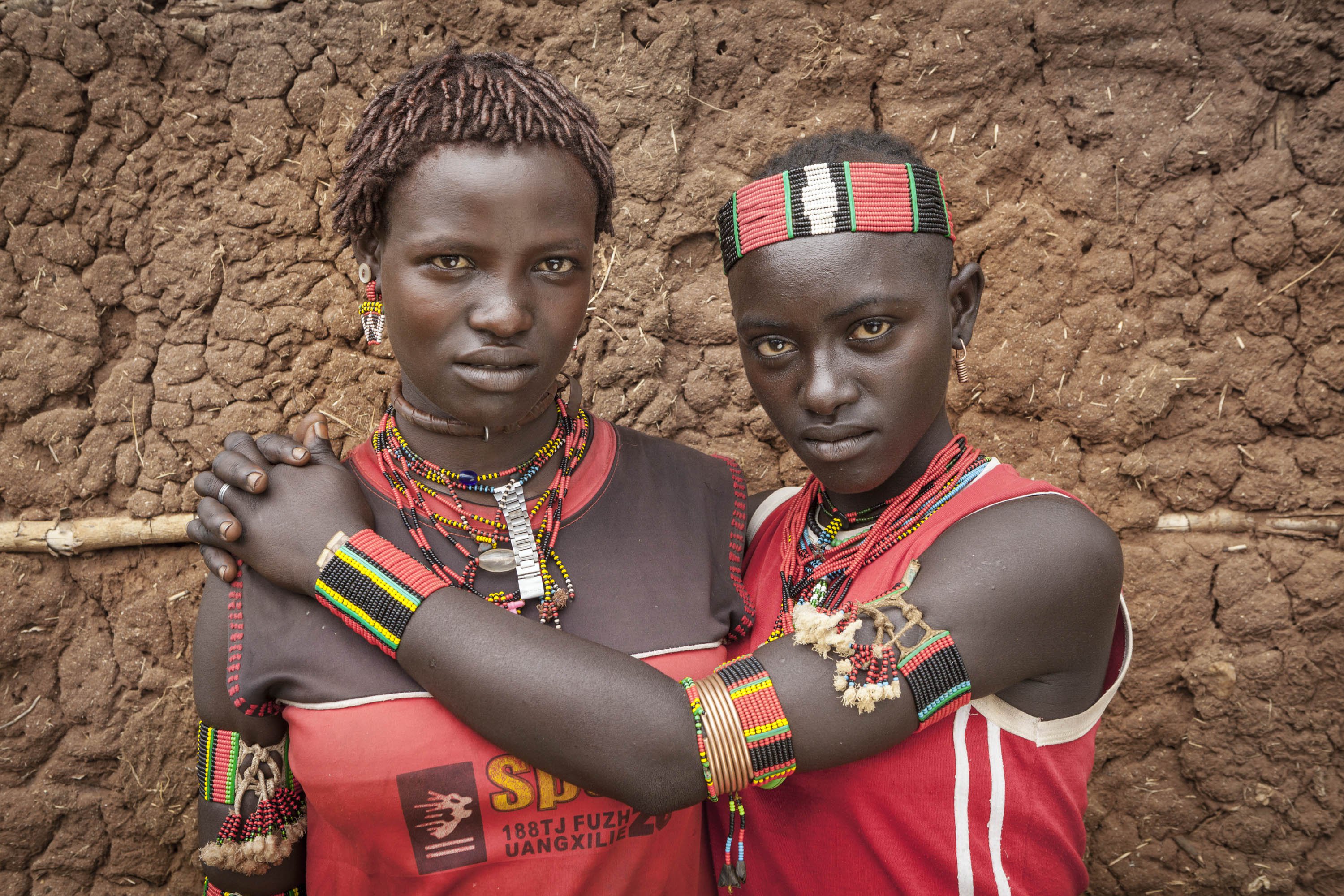 -->
Omo Valley, Ethiopia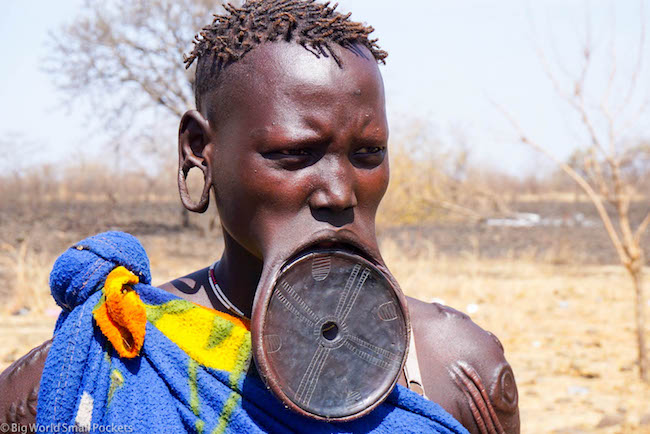 -->
Omo Valley, Ethiopia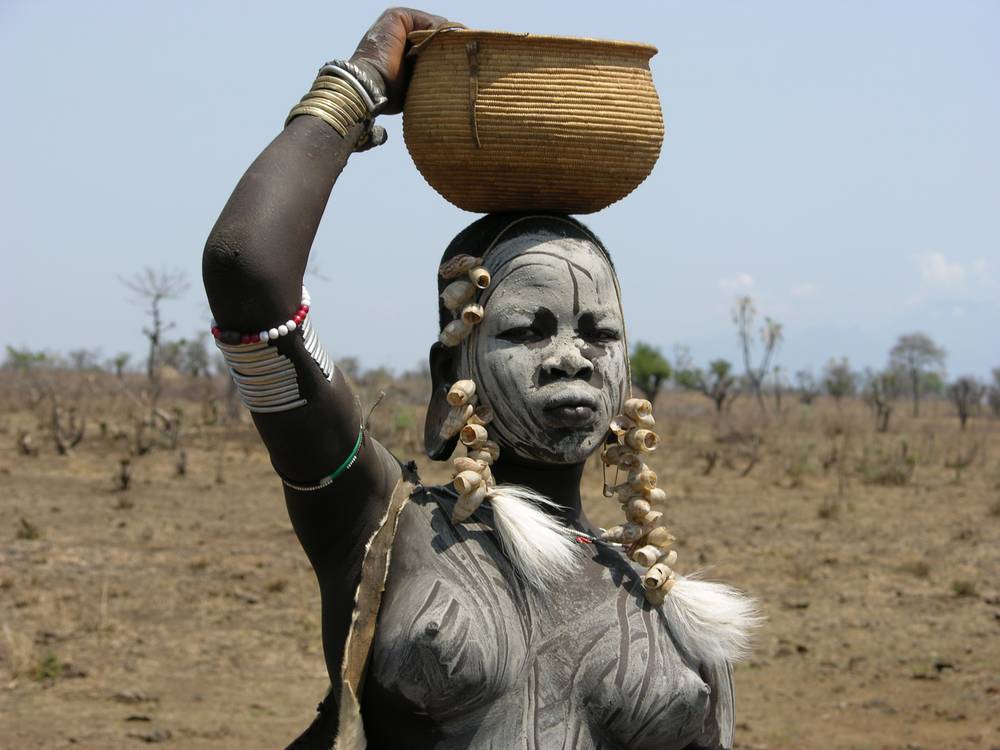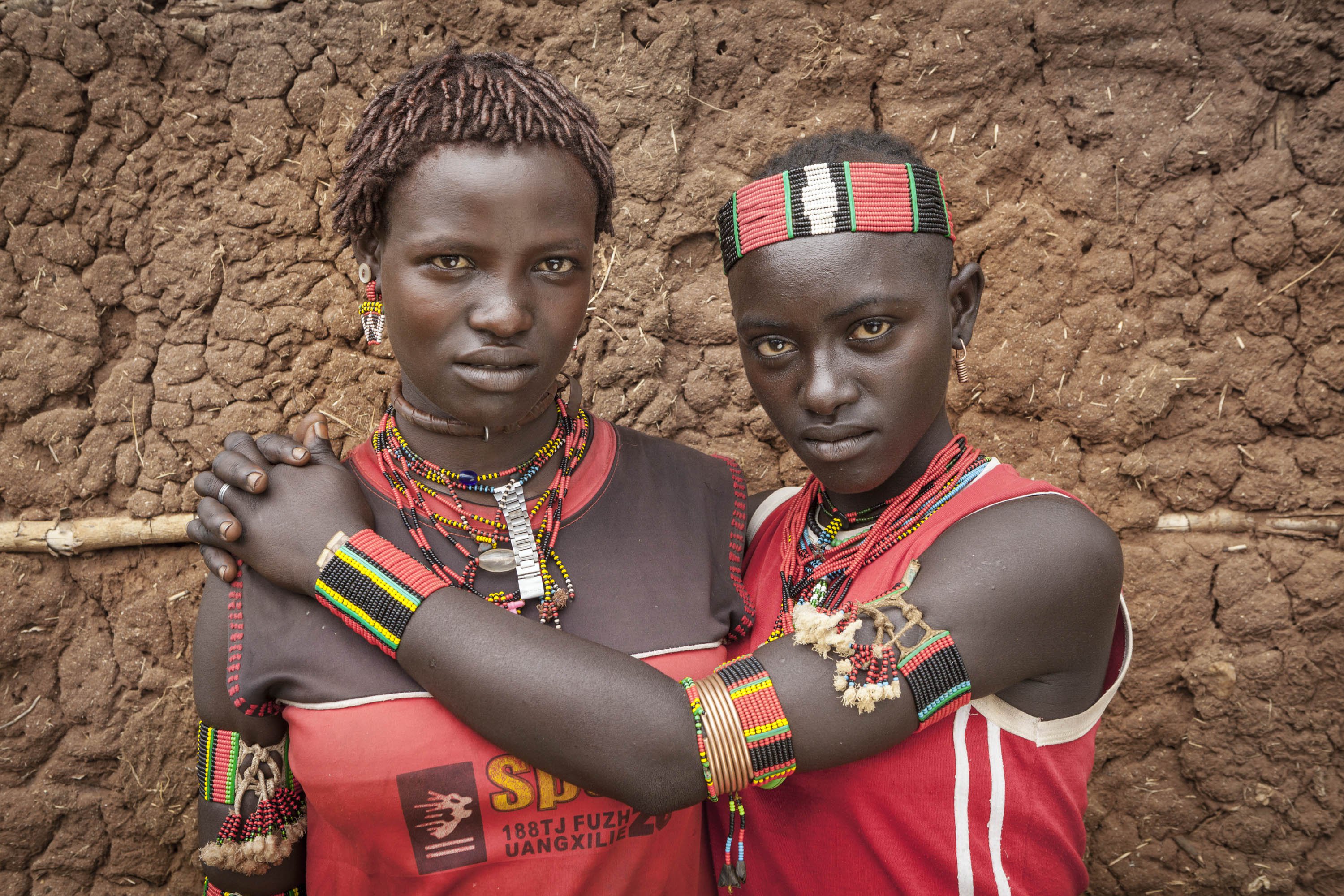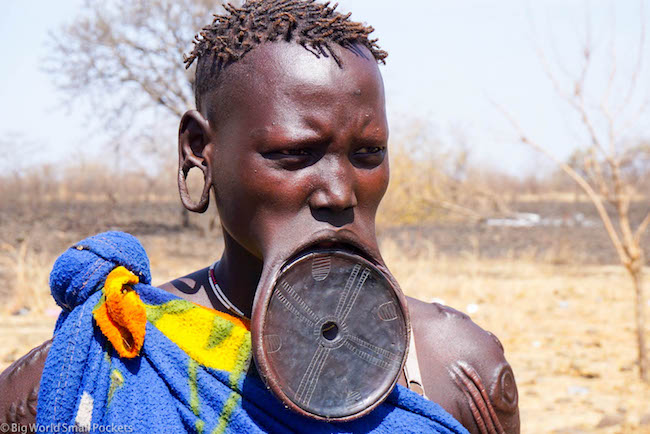 Itinerary
Day 1:  Arrive Addis Ababa
Arrive in Addis Ababa, Ethiopia. Welcome to Ethiopia! Upon arrival at Addis Ababa Bole International Airport, you will met by your tour guide and driver and transfered to the 4-star Jupiter Hotel.
Addis Ababa, founded in 1886 by Menelik II, is situated at 2,500 meters (8000 ft.) above sea level. It is the 5th highest capital city in the world. The city enjoys an excellent climate year-round, with an average temperature of 25C (77F). Addis Ababa is a pleasant city with wide avenues of jacarandas, interesting museums, and one of the largest open-air markets in Africa, known as the "Mercato".
You have a half-day tour and visit the National Museum (to see "Lucy"), one of the churches in Addis Ababa, the Mercato, and enjoy the view from Entoto Mountain.
Overnight: Hotel Jupiter Bole
Day 2: Addis Ababa, Arbaminch, Tia Stele (B, D)
In the morning, we will drive south of Addis Ababa through though Butajira and further south to Tiya, where you will see the southern-most example of a peculiar type of engraved, standing stele that stretch across parts of southern Ethiopia. These steles are believed to have been erected between the 12th and 14th centuries and are almost certainly grave markers. Recent excavations at Tiya have revealed the remains of young people of both sexes, aged between 18–30 and buried in fetal positions. Listed as a UNESCO World Heritage Site, the stele field at Tiya today comprises more than 45 stones of up to 2m.
After lunch, we will continue driving to Arba Minch on the way visiting the different small villages of Welyita at Sodo and Alaba at Tembaro.
Overnight: Paradise Lodge
Day 3: Arbaminch, Jinka (B, Picnic Lunch, D)
After an early breakfast, we will drive to Jinka visiting different cultural peoples, including the Konso, and their villages enroute.
The Konso are famous for their old and unique terracing and unusual engraved wooden statues of Konso grave markers. Between Konso and Jinka, will also have brief stops to visit several different cultural peoples and their villages.
Overnight: Omo Eco, Jinka
Day 4: Jinka, Mago, Mursi, Turmi (B, Picnic Lunch, D)
After having an early breakfast, we will drive from Jinka to Mursi Village. The Mursi, undoubtedly the most celebrated residents of South Omo, are a distinctive group of pastoralists. The Mursi are best known for their unique item of decoration — lip plates. Women of Mursi wear circular clay plates on their lower lip and the bigger a woman can wear, the greater her value when she gets married. 
After our visit to the Mursi Village, we will have our picnic lunch in the Mago National Park and drive to Turmi.
Overnight: Buska Lodge
Day 5:  Turmi, Omorate (B, Picnic Lunch, D)
In the cool morning, we will drive to Omorate to visit the Desanech (Geleb) tribal village after crossing the Omo River by boat. The Desanech are nomadic pastoralists found across the western bank of the Omo River south of Lake Turkana very close to the Kenyan boarder.
In the afternoon, we will drive to Hamer Village. The Hamer, display an elaborate and diverse selection of body decorations. They are also identifiable for their high cheekbones and elaborate custom of beads, cowries, leather, and thick copper necklaces. In the same village, we might enjoy the seasonal cultural activities including the famous Evangadi (Hamer Dancing). 
Overnight: Buska Lodge
 Day 6: Turmi, Arba Minch (B, D)
In the morning, we will start driving back to Arba Minch with brief stops to visit different villages including Erbore and Tsemay.
In the afternoon, we will have a boat cruise on Lake Chamo to see some of the biggest African crocodiles. Hippopotamuses and many beautiful aquatic birds including the lovely Kingfisher and African Fish Eagle are also easily seen.
Overnight: Paradise Lodge Hotel, Arba Minch
Day 7: Arba Minch, Addis Ababa, Departure (B, D)
In the morning, we drive back to Addis Ababa enroute visiting different small towns like Shashemene, where Rastafarian culture lives; Ziway and one of the Great Rift Valley Lakes.
In the evening, there will be farewell dinner party with a traditional special buffet and local drinks. There will also be a cultural dance show of the different ethnic groups living in the country — the perfect way to end the trip!
At the end of the farewell dinner, transfer to Addis Ababa airport for the flight back home. End of tour.
Your tour guide will keep the tour flexible in order to include different colourful markets, depending on the dates.
B = Breakfast, L = Lunch, D = Dinner
Included
Hotel / Hostel Pickup

All meals noted in the itinerary

Transportation in standard game viewing safari vehicle complete with pop-up roof for easy viewing and photography.

Your driver/guide speaks English and has in-depth knowledge of the flora, fauna, landscape, and Kenyan culture.

A minivan outfitted with two-way, long range high frequency radio communications equipment.

Bottled mineral water during game drives

Park entrance fees and game drives as noted in the itinerary.

All government taxes, levies, and fees

Pick up and drop off transfers
Not included
Domestic and international airfares and departures taxes

Personal communications charges for telephone calls, faxes, email, etc.

Tips and gratuities for your driver/guide.

Alcoholic and non-alcoholic beverages.

Laundry services

Between meal snacks, parks, attractions, and events not included in your itinerary